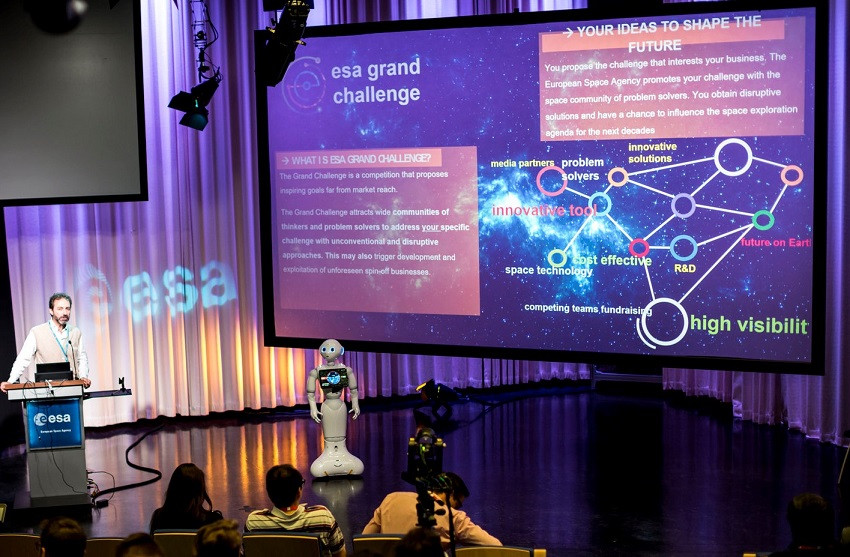 Game changers for the ESA Grand Challenge [Jun/2017]
The room was open for imagination, unusual partners and disruptive solutions in the kick-off meeting of the ESA Grand Challenge last week.
In this first brainstorming exercise, inspired non-space experts unveiled new perspectives to live and work off planet Earth using reserves from another celestial body.
The event drew a diverse community of thinkers and problem solvers to ESTEC, ESA's technical heart in the Netherlands.
Ambition to make use of raw materials in situ was paired with the aim to turn space exploration into a sustainable business and to address challenges faced by global Industry through a unique space perspective.
"Our main goal is to make European industry and academia competitive in a worldwide landscape," commented Jan Woerner ESA Director General addressing the audience through a humanoid robot.
The Grand Challenge is a competition that goes well beyond the R&D traditional approach, and gives participants the chance to influence the space exploration agenda for the next decades.
We want you
ESA invited participants to contribute their own interests and expertise.
A third of the audience had no space background and were unfamiliar with the topic of in-situ resource utilisation.
"What surprised me the most was the variety of people from different sectors," noted Antonio Pérez-Lepe, researcher at Repsol's Technology and Emerging Business Unit. "Co-developing a product or service from the beginning is key to foster innovation."
Wesley Crock, from EIT RawMaterials, added: "This initiative facilitates game changing businesses and new partnerships."
Nurturing interaction
Four fast-paced, highly interactive sessions revolved around resources, hardware, energy and material processing.
In the inspiring surroundings of ESTEC's Erasmus Centre, facilitators used sticky notes and the brains of about 60 experts from space and non-space sectors to narrow down the main challenges of in-situ resource utilisation and mining in extreme environments.
3D-printing turned out to be the most popular production method during the discussions. There was a consensus on looking for full automation, although astronauts might become key during integration and repair of the equipment.
Over a hundred questions were raised during the whole session. What would a power grid look like on the Moon? What would be the environmental impact of mining? And the legal implications?
"This kind of event is very inspiring and brings the best out of us. It is a great way to shape the future together," said an enthusiastic Jolanda Preusterink, space educator from the Copernicus Observatory.
Watch a replay of the morning talks here.
---
More articles of the category: Space Economy Articles