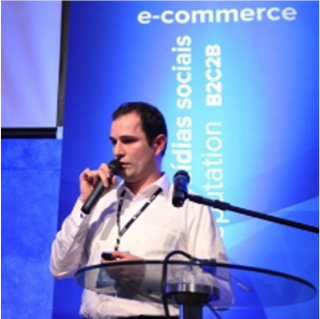 Interview with Vincent Bastide on construction [Oct/2018]
This week the GSEW team interviewed Vincent Bastide who shared his ideas and views on future trends in construction.
He is Communications Chief Digital Officer, in charge of Digital, Social Media & e-Reputation Management at Saint-Gobain Group, an innovative building materials corporation based in France.
He holds an executive MBA from Rutgers Business School in the USA, and has 22 years of experience in digital marketing and communication management, 20 years of digital marketing management experience in startups and international groups and two years of consultancy experience in international public relations.
Interview transcript
1. HOW WOULD YOU DESCRIBE THE FUTURE TRENDS THAT MIGHT RESHAPE THE CONSTRUCTION INDUSTRY IN THE NEXT DECADE?
The advent of exciting new technologies, like 3D printing, infinite computing, robotics, drones, big data, the Internet of Things (IoT) and machine learning, is driving a massive change in how we build things.
New technologies in the digital space, for example, will not only improve productivity and reduce project delays, but can also enhance the quality of buildings and improve safety, working conditions and environmental compatibility.
Building Information Modelling plays a central role here, as it is the key enabler of and facilitator for many other technologies: the building of skyscraper or a bridge, for example, can be greatly facilitated by combining robotics and 3D printing via a parametrically designed 3D model.
IoT technology is having a significant impact on the construction industry in some ways, ranging from improved efficiency to better construction zone safety.
IoT is set to be big business across many industries, with the IoT global market predicted to grow to $457 billion by 2020. One of the major drivers of growth will be businesses taking advantage of the IoT, thanks to the rise of smart cities, smart homes and the industrial IoT. In order to stay ahead of the game, construction professionals must understand IoT and the potential it holds.
The IoT is giving construction professionals the opportunity to stop reacting to things when they go wrong and to proactively prepare for them instead. Through the IoT, future site managers are going to be more informed than ever before. One day, the IoT may be as fundamental to building sites as bricks and cement. However, in order for it to get there, the IoT does have to overcome the challenges of standardisation, skillsets and security. The IoT is certainly something that all construction professionals should keep track of.
IoT Technology will really reshape the Construction Industry.
2. WHICH CHALLENGES OR OPPORTUNITIES DO YOU FORSEE IN THIS SPECIFIC INDUSTRIAL SECTOR?
The Engineering and Construction sector has been slower to adopt and adapt to new technologies than other global sectors.
We have started since those last years to take advantage of new technologies and work processes to move the industry forward.
However, the Construction industry has still vast potential for improving productivity and efficiency, thanks to digitalisation, innovative technologies and new construction techniques. Consider the rapid emergence of augmented reality, drones, 3D scanning and printing, Building Information Modelling (BIM), autonomous equipment and advanced building materials - all of them have now reached market maturity.
By adopting and exploiting these innovations, companies will boost productivity, streamline their project management and procedures, and enhance quality and safety. To capture all this potential will require a committed and concerted effort by the industry across many aspects, from technology, operations and strategy to personnel and regulation.
However, the new technologies themselves require a highly skilled workforce, and the construction industry - traditionally perceived as less glamorous than other sectors - will struggle to recruit the requisite "digital" talent.
3. DO YOU BELIEVE THE ONGOING DIGITAL TRANSFORMATION WILL CRITICALLY AFFECT THE PRODUCTION VALUE CHAIN?
Digitalisation - the development and deployment of digital technologies and processes - is central to the required transformation of the construction industry. Innovations of this kind enable new functionalities along the entire value chain, from the early design phase to the very end of an asset's life cycle at the demolition phase.
According to Boston Consulting Group study, full-scale digitalisation in non-residential construction would, within 10 years, be capable of producing annual global cost savings of $0.7-1.2 trillion (13-21%) on E&C and $0.3-0.5 trillion (10-17%) in the Operations phase.
4. WHAT COULD BE, IN YOUR OPINION, THE MOST PROMISING AREAS ENABLING INNOVATIVE SOLUTIONS?
BY THE SAME TOKEN, DO YOU BELIEVE A MAJOR ROLE WOULD BE PLAYED BY TRADITIONAL PRIMES (e.g. BIG CONSTRUCTION COMPANIES) OR DO YOU THINK A DISRUPTIVE TRANSFORMATION COULD BE BROUGHT BY NEW ACTORS (e.g. START-UPS)?
One of the most promising areas enabling innovative solutions are arising by bringing Digital Disruption to Building Materials.
To capture the opportunities arising from digitally enabled direct distribution, building materials producers will need to embrace five interrelated imperatives.
Become agile to innovate, Implement digital ideas effectively. And Measure the results. Top management must be involved in defining the overall digital ambition and tracking the company's progress toward achieving it. The head of the digital program should report directly to C-level executives and meet with them regularly (for example, every six weeks) to provide updates and discuss developments.
5. DO YOU THINK CROSS-FERTILISATION COULD BE AN ASSET IN ACHIEVING A MORE SUSTAINABLE AND LONG-LASTING PROGRESS?
Cross-fertilisation between big construction companies and start-ups is a key asset to achieve a more sustainable and long-lasting progress.
This ongoing process of cooperation must be developed through partnerships, co-creation projects, incubators, open labs, hackatons…
The right corporate-startup collaborations are hugely beneficial for both sides. So the most forward thinking corporates know that the best ideas don't always come from within their own business. Instead they are setting powerful examples of how working with and investing in startups can help defend and grow market position.
There's never been a better moment for large corporations and startups to work. For too long, large firms have viewed startups as threats looming in the rear-view mirror, while startups have seen incumbents as ripe for disruption. The truth is that with the right partnership, carefully forged, both can benefit hugely, while simultaneously creating extraordinary and sustainable value for their customers.
---
More articles of the category: Space Economy Articles