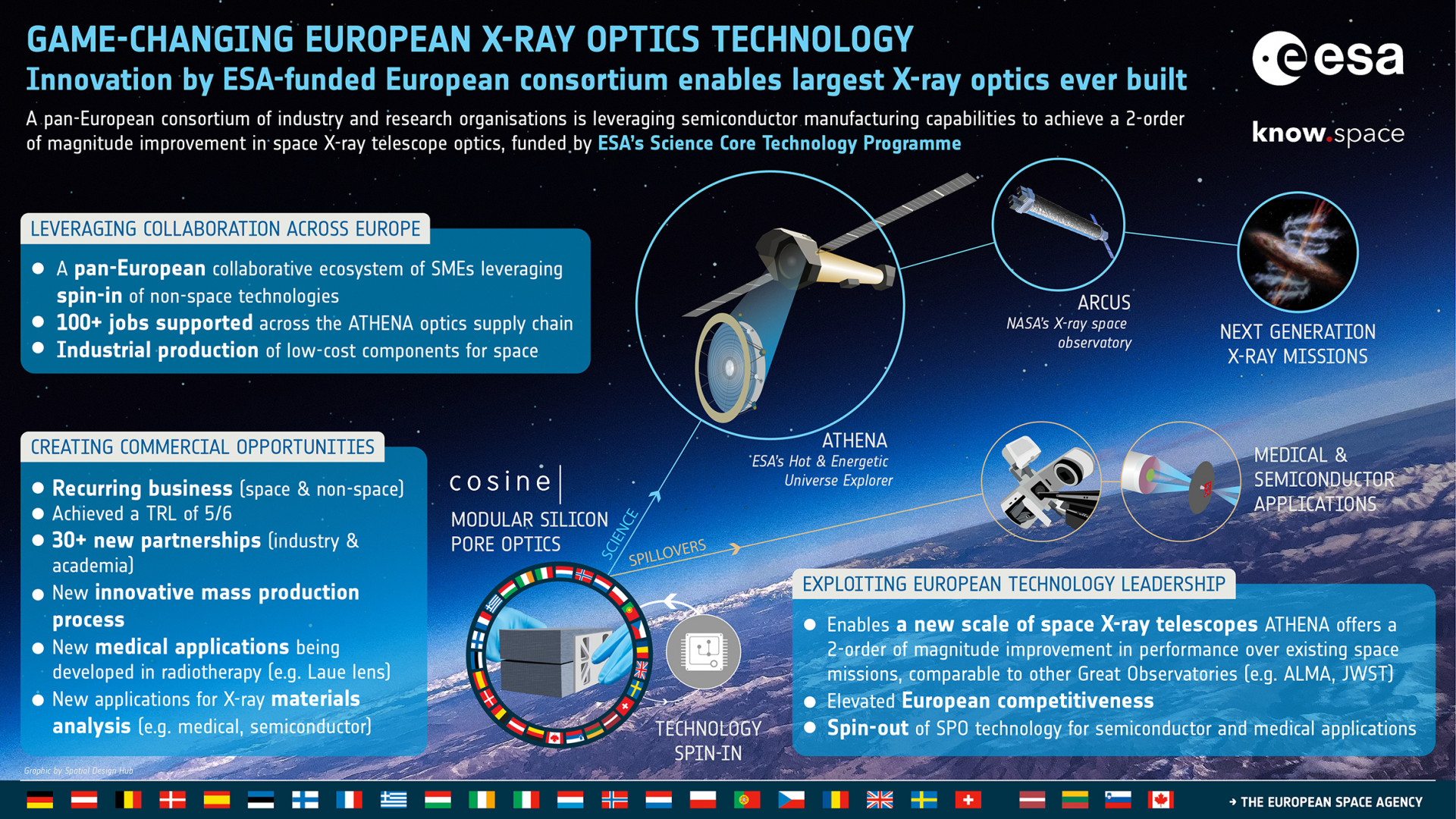 ESA Science Core Technology Development Success Story - Game-Changing European X-Ray Optics Technology [Aug/2022]
A pan-European consortium of industry and research organisations is leveraging semiconductor manufacturing capabilities to achieve a 2-order of magnitude improvement in space X-ray telescope optics (by developing the concept of Silicon Pore Optics – SPO), funded by ESA's Science Core Technology programme. Netherlands based cosine was selected to lead a large European consortium composed of many industry and academic stakeholders to develop SPO for ATHENA.
Talks to develop the next generation of European space observatory started in 1999, around the launch of XMM Newton, and highlighted from the very beginning that existing optics technology would not be suitable to build telescopes of the scale envisioned. The concept of Silicon Pore Optics was thus invented and developed in the following two decades to respond to this gap. SPO has now become the mission-enabling technology for ATHENA, the second large class mission in the ESA Science Programme.
Cosine's work on SPO has directly contributed to job creation and highly skilled employment within the Dutch economy. Overall, the work done on developing the optics for ATHENA will support more than 100 jobs through to flight phase for the suppliers, integrators and other actors.
Through its SPO work, cosine has built more than 30 new partnerships with industry and academia in and beyond the space sector. cosine is utilising its CTP-funded activities to inform the development of Laue lenses, which could potentially improve radiotherapy treatment accuracy and recovery outcomes for cancer patients. Additional terrestrial applications include offerings to the semi-conductor industry. The semiconductor market is fast-growing (CAGR of 10.4% between 2016 and 2021), and was valued at around €550 billion in 2022, highlighting opportunities for cosine to expand revenues.
The full case study report can be accessed in the restricted area here (please log in before).
The infographics can be accessed in the restricted area here (please log in before).
This initiative is led by ESA's Science Core Technology Programme. More information can be accessed at ESA - Science Core Technology Programme (CTP).
---
More articles of the category: Space Economy Articles