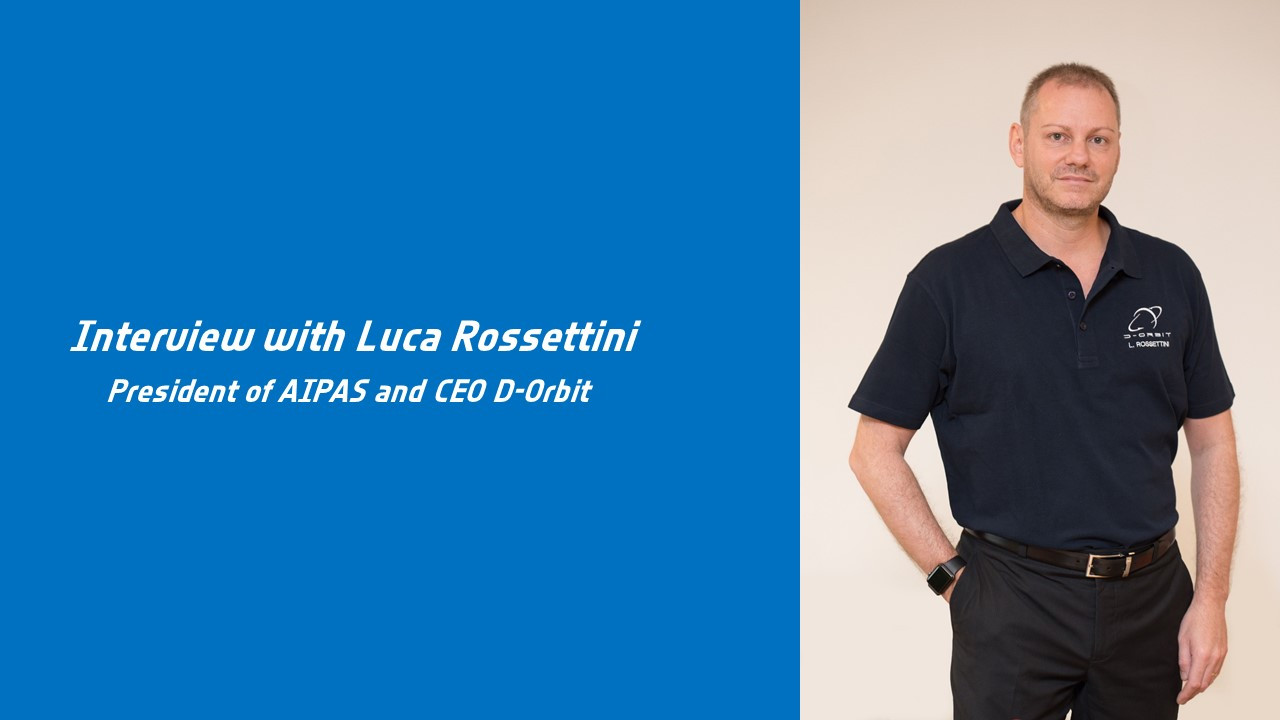 The Covid Crisis: for European SMEs, this could be a breakthrough opportunity [May/2020]
Interview with Dr. Luca Rossettini, President of AIPAS (space SME industrial association) CEO and Founder of D-Orbit, Expert at the Space Advisory Group of the European Commission, Board member of Confindustria Florence.
Q. What is the biggest impact of the crisis on European SMEs ?
The biggest single problem we face right now is cash. This was confirmed from feedback we've collected through AIPAS and other associations throughout Italy (AIPAS is also a member of SME4Space). Having exchanged with colleagues in other European countries, the situation sounds similar elsewhere as well. Whether you're big or small, liquidity will be a problem. When bigger companies save money, reduce workforce, that will reflect on the whole supply chain.
Q. Are some SMEs more vulnerable than others ?
Yes, I think so. Mature, well-established SMEs whose turnover is mostly relying on institutional or large corporate space contracts are more resilient. Government agencies and ESA have mobilised themselves to limit disruptions. But when business with large corporations is disrupted, the cashflow 'runaway' is limited even for such SMEs. They're looking at three to six months. And since they often don't have a credit history (because they didn't really need it in the past), it will be harder for them to get loans from banks. For this reason, a custom-made financial instrument of the kind we understand ESA and EIB are looking to set up would help.
There is a second category of more vulnerable companies: 'New space' companies, created in the last five to 10 years, at the beginning of the road in terms of generating revenue on emerging space markets. They will have received some ESA R&D support, some investment to make it this far, because they have shown ambitious growth strategies and a significant innovation potential. But these companies are also the most fragile in the current situation where investors are pulling out of space – which happens everywhere at the moment, slightly less in Asia, where funds are often publicly-funded. Their cashflow horizon is one to three months. For them it's also hard to get loans because they are pre-income companies. They need specific instruments and 'patient', knowledgeable capital. This may come from institutions with a vision and knowledge of what space is like. Let me give you an example: if a launcher flight gets delayed, for a private investor this is a very big problem. Private investors seek to get the highest return in the shortest time possible, because they take the risk of investing. But in the space business, flight delays are a common occurrence. We need investors, private or otherwise, who know these particularities and can take them into account. We hope that your cooperation with the EIB can bring about such specific instruments with a real vision and willingness to invest in European capacities for the future.
Q. So what are the risks of the consequences?
The risk is that we lose space innovation in Europe. If we've come this far, and now we close shop, all the investments so far will be lost. But I don't like to talk about risk, I like to talk about opportunities. The economy will pick up again, and when it does, we need to be ready to use those market opportunities. If in Europe there is the vision of helping us get ready, we'll have a competitive edge over global competition. Let me explain: it is well known that in the US and elsewhere than Europe companies benefit from much more abundant capital than we have in Europe; but conversely, now they are also more affected as private investors pull out. Paradoxically, this has brought us all on an almost equal playing ground. In Europe, SMEs should be supported not just to survive, but to actively gear up so we are in a better position than the competition when the economy is back up again.
Q. What should be done about this? How do we make the most of the opportunity?
There are two ways: with existing money, and with additional money.
Let's start with the easier first one. What we have been advocating at AIPAS are measures such as: make advance payment plans as large, as easy, as bureaucracy-free as possible. Try new procedures – the force majeure allows us to experiment a bit, as we have seen with the procurement practically going fully digital overnight as people work from home. If they work, they can last. If not, scrap them. This is the time to take some more risk and experiment. Not doing it is even a greater risk.
Introduce a European preference, for those technologies which are still only available abroad, help us qualify our technologies, take them from the lab to market. In-Orbit-Validation and In-Orbit-Demonstration are a crucial sign of quality. It gives small companies internationally recognised ESA heritage, it opens doors. This crisis is an opportunity to accelerate existing programmes to this effect. Small missions where SMEs can be prime contractors also show to private investors and clients that ESA trusts us. Again, this is a valuable door opener for SMEs in Europe, ESA is the best reference to have.
With additional money: of course other sectors are very hard hit, like tourism, and they should be first in line to get additional funding. In relation to space, the first consideration should be that it is a transversal enabling technology for innovation and growth in many other sectors, including the hard-hit ones. This means space holds solutions for the restart of those businesses as well, and that is also why space is highly strategic. Its strategic nature is why ambitions for a European presence in New Space should not be overlooked in these times either. In this respect, sometimes small funding can go a long way. I understand that the guarantee schemes ESA is looking at setting up with the EIB entail a small contribution from MS, but with a multiplier effect in terms of securing additional investments and making them available for SMEs as debt financing and/or equity. Equity is a fundamental instrument for the growth of the innovative SMEs in Europe, and the complete lack of private investors / VC specific for the space sector is a bottleneck for the growth and a motivation for our companies – exactly when they will start producing value and giving back to the EU ecosystem – to move into Asia or USA. Debt financing, especially if unsecured and designed to cope with future or past VC equity investment – could become an important enabling factor to accelerate the growth and reach business results which will attract investors.
SMEs would need this not just for now, but also for the future, for the reasons I explained above – the space markets are very specific. Investors say no because they are not very familiar with the space sector, they do not have the expertise. ESA has this unique space expertise, ESA works with the entire space ecosystem, and this knowledge and aggregation are de-risking factors for investors. Once results come, private investors will follow. We hope such levers are mobilised, as soon as possible, to safeguard the competitiveness of the European space sector.
LUCA ROSSETTINI - BIO
Luca Rossettini is CEO and Founder of D-Orbit, Expert at the Space Advisory Group of the European Commission, Board member of AIPAS (space SME industrial association) and Board member of Confindustria Florence. He is also board member and founder of The Natural Step Italia.
In 2008, Rossettini co-founded Imaging and Research Technology Association, where he held the position of President until 2011. He is an aerospace engineer with a Ph.D. in advanced space propulsion, awarded with honors by Politecnico di Milano. He holds a master in Strategic Leadership Towards Sustainability and a Certificate in Technology Entrepreneurship from Santa Clara University, California.
---
More articles of the category: Space Economy Articles