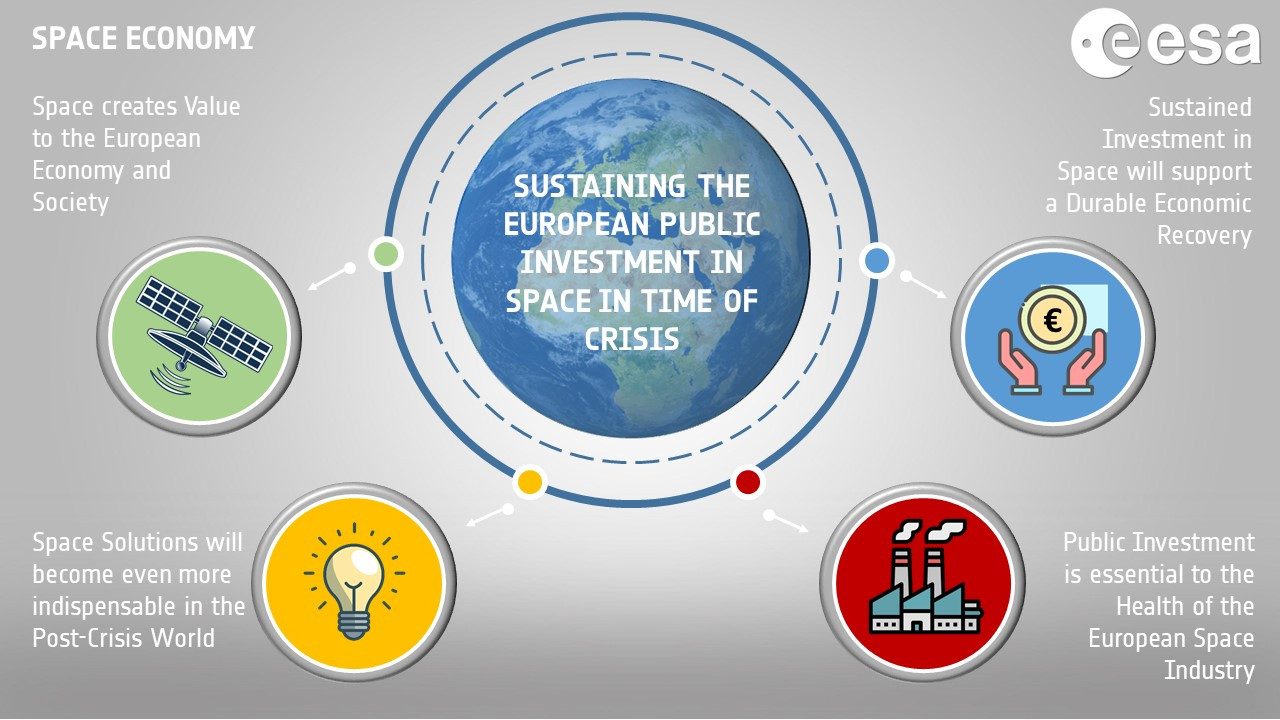 Why it is important to keep investing in space during and after the Covid-19 crisis ? [May/2020]
After a very successful Council at Ministerial level in November 2019, demonstrating the willingness of ESA's Member States to share an ambitious future in space and support Europe's competitive position in the global space arena, the unprecedented crisis generated by the Covid-19 could significantly impact the space budgets in Europe at a time when it is actually crucial to keep on investing in innovative technology and European industry, in particular through space programmes. ESA's Space Economy team published a first set of infographics to stress the importance of sustaining the public investment in space in Europe during, and after, the current crisis.
Space creates value to the European economy and society. It brings significant employment to European countries, contributes to science, technology and innovation, the catalysts of growth. It has become essential.
Investing in ESA means investing in the future and in solutions that even more relevant during the crisis and the post-crisis world. As a strategic sector, space is omnipresent in our economy; an ever-more connected and digital economy. Governments being a major stakeholder, public investment plays an important role in keeping the space sector healthy, enabling competitiveness within the European market and success on the commercial and export market. Public investment therefore boosts innovation but also fosters private funding, furthermore attracting investors in the space sector and ensuring its growth.
However, Innovation and Research & Development are particularly at risk during an economic crisis, being the first sectors to be left behind in such times. This means that SMEs and start-ups, the fragile engines of innovation, become particularly exposed. To address this problem, public investment needs to support these companies through access to finance in order to foster a sustainable recovery.
In fact, the financial crisis in 2008 demonstrated the positive impact of R&D investments on the economy. It helped retain high-skilled workforce that were essential to maintain Europe's leadership in past innovative sectors who have become part of our daily life.
To learn more about this topic detailed information, please click here or login to access the restricted area.
---
More articles of the category: Space Economy Articles